Adult Toys For Men:
Sex and the City has a lot to answer for and turned the tables on us boys really by making the vibrator a fashion item to be seen with. We used to be the ones that could discuss Mrs Palm and her 5 daughters so comfortably with our mates but then that thing came along. A great big sparkly thing that did things to women's bodies that we couldn't imagine ever being able to do. I mean seriously, have you seen those things?
Now I'm a fairly capable bloke when it comes to multi-tasking, I can pat my head and swirl my tummy and I can talk on the phone to my boss and iron my shirt but I cannot for the life of me vibrate, spin, change direction and have 200 miniature balls in my hand in one go. Neither do I stay shiny after 11pm on a Saturday night. They have so many settings, I saw one once that had 100 different functions. I mean Christ, how the hell do you figure that out? You'd find a setting that she likes, accidently change it and spend the rest of the night with her lip stuck out moaning about how useless you are, while you scrabble around looking for the blooming instruction manual and she'll go to bed early. What do we get? A blow up sheep, if you're lucky at a stag do. Oh no, not any more. Why the hell should the girls get all the fun? Buzzpinky for men gives the word boys toys a whole new meaning.
The cool Fleshlight sex toy is one of these boys' toys. OK so I get it isn't as good as actually doing the do with the real thing but it is the closest thing we can get to it, unless we somehow turn into Mick Blue overnight, which we admit is not going to happen but we can dream. With its tight entry, opening to a more comfortable, wider canal with these little bumps and ridges to caress and tease you and when teamed with this EXS Silk Lubricant it really is the next best thing after your own hands. Trust me on this!
Which then brings us quite nicely on to prostate massagers. Now stick with me on this lads. There is nothing queer about this. Do not get squeamish, it'll be the best investment you are going to ever make. Prostate massagers, when used correctly are guaranteed to give an absolutely mind blowing orgasm and potentially one that will be hands free. Now we are not saying go ahead and stick it into the exit only hole but every man needs to try one of these just once in their lives. The trick is to relax, tensing up will not make the experience pleasant but this little toy is perfect for solo use or as part of a couple.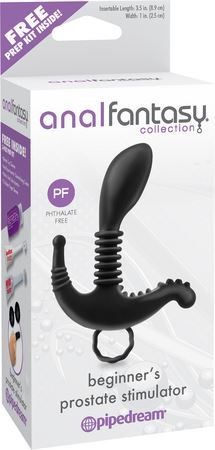 The Pipedreams Anal Fantasy beginner'sprostate stimulator is one of these. Every pack comes with a FREE 5-Piece Prep Kit to help you ease into comfort and clean up afterwards. The kit includes 2 finger sleeves, anal desensitizing cream, anal lube, and toy cleaner.
If this really isn't your bag, although after trying it most men would disagree (not that they are going to admit it to their mates) then we have this EXS Endurance Spray & capsules, designed for stronger and harder erections and to delay ejaculation. It is fully herbal and so is completely legal and is something every modern man needs in their bedroom.